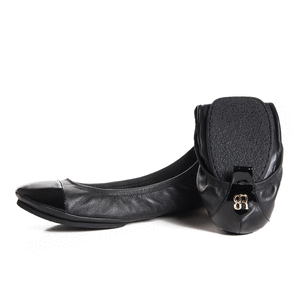 Alright ladies let's have a quick girl to girl chat. Let's talk shoes! We love them, we need them but sometimes they kill our feet. Moreover, finding a stylish pair that can transition or work for multiple occasions can also be a challenge. Enter African American fashion designer, Carla Truitt's Eight Royale Ballet Flats. They are chic, comfortable and total couture goals!
Eight Royale Ballet Flats
Why do we say Eight Royale Ballet Flats are fashion goals? It is because every girl's wardrobe or closet should include style staples. Staples are the pieces that are classic and never go out of style. For instance, it does not matter the season ballet flats just work like Rihanna. Moreover, Eight Royale's designs are modern and can appease a plethora of lifestyles.
Eight Royale, is an emerging shoe line created by DC native Carla Truitt. Eight Royale ballet flats are perfect for the busy professional who transitions from a day in the office to a networking happy hour. Also, the student who runs to class all day then runs to meet with girlfriends at night.
Nevertheless, the fact is regardless the background or setting every lady wants and must remain stylish! Truitt's line accomplishes that and then some. These shoes are sold online and featured in upscale boutiques such as Sara Campbell.
Want to get more acquainted with this fabulous collection of shoe wear? Yeah, we thought you just might (wink, wink). Here are a few of our favorite picks. The names are just as fabulous as the flats themselves!
Eight Royale Ballet Flats – The Look
Jaquline
Giselle
Sophia
Victoria
Thoughts on African American Fashion Designer's Eight Royale Ballet Flats are Couture Goals? Talk all things fashion with us by dropping a comment like its hot down low. Or hit us up on our Facebook, Instagram, Tumblr or tweet us @1966magazine.