Music is starting to heat up during this lovely 20 to the 16! Zendaya Coleman and Chris Brown are gearing up to bless us all with a new hot single entitled Something New. Zendaya already has us all reeling over Something New thanks to social media. Coleman hit the Gram with cover art for the single that was captioned, "I know y'all been waiting for something new." Yes, girl you know what's up, we all really have been waiting and Friday can't get here fast enough!
If that little teaser post was not a reason to get musically happy, fans were also treated to a snippet of Something New. Are there any TLC fans in the house? Well, if so you are in luck because the single samples one of their biggest hits of the 90s, Creep. The vibe of the song fits well with Zendaya's laid back cool and the fact that Chris Breezy has also thrown it back a few times for a few of his recent song releases. Remembering the 90s seems to be a growing trend of this new generation of hit makers. For all of us 90s babies and kids it is a nice piece of nostalgia.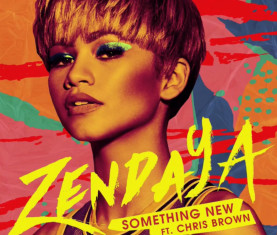 Being that it is Hump Day we still have to wait another two days for the full the single. Until then here is a little preview of Something New:
And why not, here's one more!
Nothing beats the original, so here's TLC's Creep if you can manage to listen to one more thing without getting caught at school or work (LOL). Enjoy:
What do you think of Something New? Join the discussion on our Facebook, Instagram, Tumblr or tweet us @1966magazine.