We recently had the honor of speaking with Terrinique Pennerman the CEO genius behind haircare line Kurlee Belle! Moreover, we gabbed away about natural haircare, business goals, inspiration and of course, all the wonderful Kurlee Belle products. Therefore, we are beyond excited to share our little chat with all of you. Keep scrolling to check out our exclusive interview with Terrinique Pennerman.
Natural Haircare: Meet Terrinique Pennerman of Kurlee Belle!
Kurlee Belle CEO Terrinique Pennerman
Q: Terrinique thank you so much for taking time out of your busy schedule to chat with us. Tell us, what inspired you to start your own hair company?
A: Kurlee Belle started as a result of my natural hair journey. I wanted to stay away from harmful chemicals now that I was wearing my hair in it's natural state. At the time, I couldn't find products made from natural ingredients that gave me the results I desired so I started mixing my own hair treatments and twisting cremes— from the knowledge that I had acquired as a child growing up in The Bahamas. We would mix mayo, banana, avocado and egg as deep conditioning treatments and shea butter and coconut oil to moisturize and define the hair. My friend saw how well the treatments and butters were working for me and he encouraged me to start my own hair care line. That is how Kurlee Belle began.
Q: We absolutely love your brand's name! Has such a nice ring to it. How did you come up with the name, Kurlee Belle?
A: Thank you! I actually came up with the name during a trip to Rome, Italy. At that time, I was transitioning from relaxed to natural, so I would wear curly weaves to blend in with my curly hair. As a tourist in the city, I think I stood out because of my very dark complexion. I would go to the local restaurants and the waiters would be like "Bella! Bella!" which means beautiful in Italian. The word Bella really stuck with me so I started playing around with the combination of Belle and Bella. Kurlee is the pronunciation of the word "curly" so Kurlee Belle stood out more to me than Kurlee Bella.. and that is how I came up with the name. 🙂
Kurlee Belle Products
Q: Please tell us more about your line. What type of products can women expect to find and buy?
A: Kurlee Belle is inspired by hair care recipes from the Islands of The Bahamas (The country that I am from.) Our products are made from natural ingredients and do not include: parabens, sulfates, animal ingredients, gluten, paraffin, phthalates, mineral oil, PABA, DEA, synthetic color, propylene glycol or petroleum.
We have six products in the line, all of which smell like tropical goodness and are very light meaning they won't weight your hair down but will nourish and define the hair. Kurlee Belle consists of Almond & Shea Butter Moisturizing Shampoo, Thirsty Kurls Leave-in Conditioner, Banana Nut & Avocado Deep Treatment, Kurl Defining Creme, Jelle Coconut Styling Gel and Kurlee Tropical Oils Blend.
What women can expect from Kurlee Belle: 
Almond & Shea Butter Moisturizing Shampoo is sulfate free and will leave your hair feeling clean yet moisturized. A little goes a long way so you do not need to use much of this. This shampoo makes your hair soft, so that you can detangle as you wash. I love this product  because it is the best shampoo I have ever used. If you are a co-wash girl, this shampoo will make you a believer. It is just that good!
Thirsty Kurls Leave-in Conditioner which is our Best Seller is made from Hibiscus, Aloe Vera and Honey. Naturals love this product because it provides a lot of slip for detangling, moisturizes and defines curls. It has a light Hibiscus scent. Naturals love it so much, they usually buy two bottles at a time.
Banana Nut & Avocado Deep Treatment is also a best seller! Made from Banana, Coconut, Avocado and Honey. Naturals love this because it smells like you're baking Banana Nut Muffins when you put this on your hair. It promotes growth strengthens, tames frizz and makes the hair soft and manageable.
Kurl Defining Creme is made from Cupuacu, Shea Butter and Argan Oil. It has a whipped cream consistency that melts into the hair to form smooth, defined and moisturized curls! Great for Twist Outs, Braids or as a Daily Moisturizer.
Jelle Coconut Styling Gel is made from 100% coconut oil. It is not your typical gel. It is very lightweight and gives great hold without the flakes or crunch. Great for Wash N Go's, Twist Outs, Ponytails, Curly Sets, Bantu Knots, etc.
Kurlee Tropical Oils Blend is made from a blend of essential oils like Castor Oil, Jojoba, Moringa and Coconut. It is a 3 in 1 product: Pre Poo, Hot Oil Treatment and Daily Shine Enhancer. Brings life and shine back to dry brittle hair while eliminating frizz!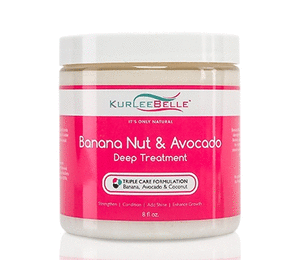 Kurlee Belle – Hair Game Changer
Q: Black women are becoming more hip to the products that they place in their hair. They're saying no to anything that will not contribute to their hair's natural beauty and health. How is Kurlee Belle meeting these needs?
A: Kurlee Belle is made from natural ingredients for natural hair. Our products are formulated from the finest natural ingredients to cleanse, soothe, define, nourish and repair. If you read any reviews about Kurlee Belle you will see that our products do exactly what they say they do on the label.
Q: What would you say separates Kurlee Belle from other products currently on the market for us curly girls?
A: Kurlee Belle is the only internationally distributed natural hair care product line inspired by hair recipes from the Islands of The Bahamas. Made from natural ingredients for natural hair.
Q: What would you say out of all the products in your line is the one no Natural lady should ever be without?
A: Our Banana Nut & Avocado Deep Treatment hands down! This is one of our top sellers. Naturals love it because it smells like you're baking Banana Nut Muffins when you put it on your hair. It smells like something to eat but the scent is not overbearing. The scent is just an added benefit, it is a must have because it promotes growth, strengthens, adds shine, makes the hair more manageable and softer and defines curls.
The Future
Q: We will definitely be picking that up then. Well, Terrinique you've already achieved so much with Kurlee Belle. Nevertheless, where do you see your brand in five years? Where do you want to take things next?
A: In the next 5 years, I see Kurlee Belle as being the premier internationally recognized hair care product line that offers a variety of products made from natural and organic ingredients for women, kids and men. Helping and educating people around the world on how to grow healthier, beautiful hair.
Q: We love seeing women such as yourself making such a powerful impact. To any young girl reading this what advice would you give her when it comes to following in your footsteps and being successful?
A: My advice would be to do what you love. Follow your passion. If you are not sure what your passion is, just ask yourself what you are good at or what do you enjoy. When someone is doing something that is in line with their passion or purpose the world is generous to them. Don't start a business solely to make money, start a business with a purpose that is greater than yourself. That is where you will find true joy and make an impact.
Where To Get It
Q: That's wonderful! Lastly, we need your products ASAP. Where can Kurlee Belle be found and purchased?
A:
Kurlee Belle can be found on our website at
www.kurleebelle.com
,
Amazon.com
, Your local Walmart in Florida, Georgia and Texas. Also in stores throughout the USA, The Bahamas, Nigeria, Australia, Cayman Islands, Trinidad and Tobago, Barbados, Jamaica, Bermuda, Turks and Caicos and the United Kingdom!