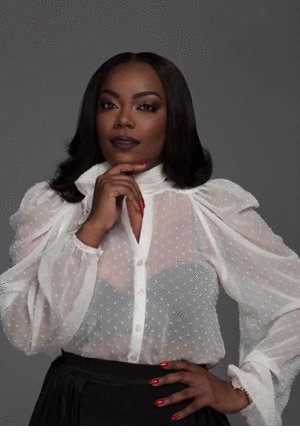 It's time to sprinkle a little more black girl magic!  We are beyond excited this week to share the powerful background story of a woman who is truly the definition of "beauty and brains." Dr. Cierrah Perrin is not only an inspiration to women entrepreneurs; but, she is a prime example of the importance of staying true to yourself and your goals.
Alright, ladies it's time to get familiar! Dr. Cierrah Perrin, Ed.D, is an Author as well as Educator. She is on a lifelong mission to empower, motivate, and inspire as many women as possible through the power of words. Moreover as a community leader, she strives to support initiatives that advocate the voice of women everywhere.
As if that is not already impressive, Perrin continues to prove she is no one trick pony! As an emerging author, she is a contributor in the book, Truth Be Told: Narratives from the Souls of Black Women. Also, her forthcoming installment of the Woman to Woman book series will be released in the near future.
Dr. Cierrah Perrin Earns Doctorate at 30, Authors Woman to Woman Straight To The Point!
When it comes to her newest book, Dr. Cierrah Perrins is deeply inspired by conversations she's had previously. She reflects on Chats with her courageous sister, Clardia Perrin, who suffers from Sickle Cell Anemia. She is also inspired by her personal shero and mother, Shirley Yarber.
Influenced by compassionate go-getters and visionaries, her influences range from Ursula Burns, Bozoma Saint John, Michelle Obama, and Marissa Mayer, to fellow women who are doing everything they can to not only get by in life, but thrive.
Outside of the writing world, Dr. Cierrah Perrin works in the information technology sector as a Principal Business Architect. Hey, didn't we tell you Beauty and brains y'all?! In addition, she received her doctorate by the time she was 30 and graduated at the top of her class. Dr. Cierrah's goal is to become an example of progression, not exude a false reality of perfections.
To find out more about Dr. Cierrah Perrin and her Woman to Woman series, visit her official website: www.woman2womanbook.com
**Want Even More Business as well as Entrepreneur News, Insights as well as Trends? Download Our New Shiny App! Click HERE**
Thoughts on Dr. Cierrah Perrin Earns Doctorate at 30, Authors Woman to Woman Straight To The Point? Well let's connect then! Join the discussion and talk all things fashion as well as celebrity related with us by dropping a comment like its hot down low. Or also hit us up on our Facebook, Instagram (1966mag), Tumblr, Pinterest or tweet us @1966magazine.