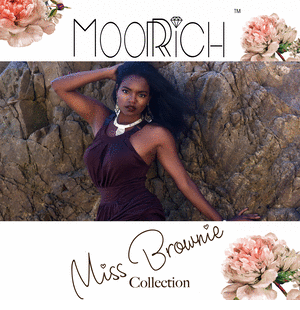 Is your mouth begging to be devoured like a decadent slice of cake? Searching for the lip color that is going to have your pout popping like, "WHOA?!" Then, hold up, what a minute, give those lips the Miss Brownie treatment! Rejoice makeup lovers and brown lipstick dolls, because Moor Rich Beauty brand is doing it big again with the release of the Moor Rich Beauty Miss Brownie Collection! Featuring two sultry lippie products that are two "sweet" to be beat!
Brown Lipstick Alert! Moor Rich Beauty Miss Brownie Collection
Alright, Moor Rich Beauty we see you! One of the hottest, immensely growing black-owned cosmetics brands in the beauty industry is sending shock waves throughout the beauty realm with a humongous Fall/Winter release. What's on the lipstick and lip gloss deck? The collaborative collection between Moor Rich CEO "Free" and 1966 Magazine Editor Arianne "Miss Brownie" Suggs which includes a rich brown lipstick as well as complementary toned lip gloss.
This dynamic duo collection is an one-two TKO punch to all other brown lipstick colors in the game. It features "Hot Fudge" (a creme matte lipstick) as well as "Brown Suga" (a high shine lip gloss). Here's an up close and exclusive preview of both divine products!
Hot Fudge
A sexy matte finish without any dryness? Uhm.. sign us up! Hot Fudge is a creme matte brown lipstick with a decadent, lavish hue. Enjoy high pigment color that will last all day and has plenty of moisture without the need of lip balm.
Brown Suga
Rihanna and Kanye both have heralded the truth about diamonds. They're beautifully luminous and forever iconic! Therefore, glitz and sparkle is a hot makeup trend that you can create instantly with Brown Suga. Use this gorgeous brownie themed lip gloss all on its own for a spellbinding opulent finish. Or layer it onto Hot Fudge as a glamorous, delicious topper.
Behind Moor Rich Beauty
For Moor Rich Beauty whose lip products sell out faster than you can say, "here just take my credit card," the new collection is apart of a special one year anniversary celebration. Moor Rich is a California based beauty brand that has one of the hardest working boss ladies running things behind the scenes. We recently had the honor of interviewing Free in order to learn more about her as well as her amazing brand.
Q: What or whom inspired you to start Moorrich Beauty?
A: My mother is my main inspiration for starting my beauty line.
Q: Have you always had a passion for the makeup industry?
A: Yes! I have always had a passion for makeup since I was a little girl. I used to be a freelance MUA (makeup artist) for All my Children and also VH1.
Q: Your products are simply amazing and sell out so fast! In your opinion what sets Moorrich apart and makes your brand so desirable?
A: What sets Moor Rich apart is that we are a "peoples" brand. We have relationships with our actual customers so we come out with products they actually want.
Q: You are coming up on a big anniversary for your brand, congratulations! How does it feel?
A: I feel like I have made it threw the hardest part. They say the hardest year in business is your first year. I have learned a lot and have superseded my expectations for my brand and I am extremely excited for our future.
Q: We're BEYOND excited about the Miss Brownie Collection as well as the future hot lip glosses you're about to drop as well! Nevertheless, where do you see the Moorrich Beauty company going in the future?
A: I see Moor Rich Beauty being a brand still for the people. I would love to showcase the everyday girl as I always have on an international level. Also be a full beauty brand in the future.
Moor Rich is definitely on it's way to full makeup world domination. Therefore, want to get your hands on the Moor Rich Beauty Miss Brownie Collection? Pre-sale begins on November 1st with the official release on November 11th! All products can be purchased at www.moorrich.com.
**Want Even More Beauty as well as Makeup Release News, Insights as well as Trends? Download Our New Shiny App! Click HERE**
Thoughts on Brown Lipstick Alert! Moor Rich Beauty Miss Brownie Collection? Well let's connect then! Join the discussion and talk all things fashion as well as celebrity related with us by dropping a comment like its hot down low. Or also hit us up on our Facebook, Instagram (1966mag), Tumblr, Pinterest or tweet us @1966magazine.